Slovak Marionette Theatre
resumes the tradition of the historical puppet plays that the European comedians have been performing for four centuries. In Slovakia this tradition began at the turn of the 19th and 20th centuries. Anton Anderle from Banská Bystrica successfully continued in this tradition as the only puppeteer in the Central Europe, and won worldwide recognition by his exceptional performance. The tradition faded away after this phenomenal puppeteer unexpectedly passed away in 2008.
We established Slovak Marionette Theatre to demonstrate respect to the old master puppeteers and this beautiful tradition. We resurrected the tradition and helped puppets to abandon the museums and entertain audiences of all ages. In our theatre we animate historical and one hundred years old puppets. The puppets will play old stories full of wit, folk wisdom, adventure and romance for all of you, i.e. individuals and families, adults and children.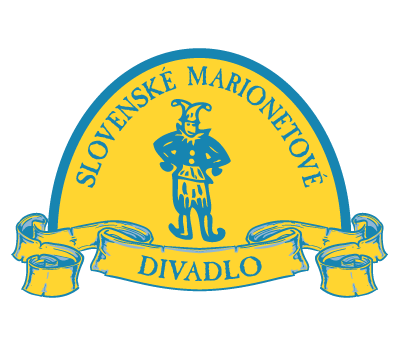 Johannes Dr. Faust
Faust is not only the best known but also the most popular play performed by almost all strolling European comedians between 17th and 19th century. This witty play about boundaries of human knowledge with a distinctive humour of Mr. Punch is attractive also by its performance, namely magic, fire and spooky fun of the devils who take Faust to the hell.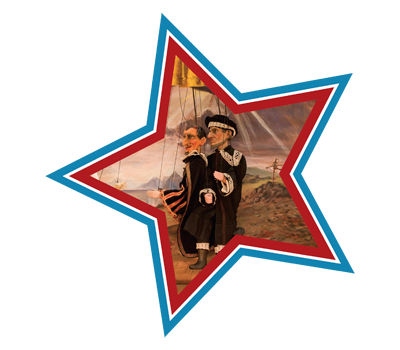 The Tragedy of St Genevieve
Th is puppetry tragedy about St Genevieve retells an old legend about innocent and adultery falsely accused wife of the knight Siegfried. Strolling puppeteers from Western and Central Europe used to perform this play in past centuries. Th e play includes elements of chivalric epics, romances, fairy-tale motifs as well as motifs of Shakespeare's plays. Th e play features a character of intriguing Punch, who falsely accuses Genevieve and who is justly punished at the end.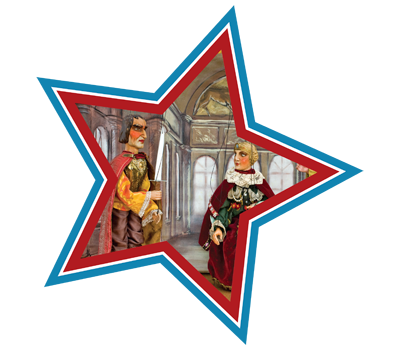 Mr. Punch´s Pilgrimage to Turkey
Turkish Borderland or Mr. Punch´s Pilgrimage to Turkey is a play for both adults and children about the escape and return of the princess captured by the Turkish sultan. A puppet drama spiced up by humour of Mr. Punch, who betrays the princess, who forgives him at the end. This play has it all – love, betrayal, battles, victory and forgiveness, just as any good romantic story.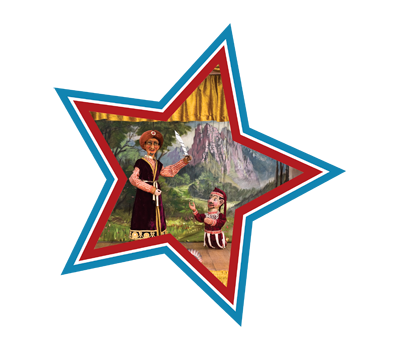 Plays prepared
Cast: Alexander Maďar, Kamil Kollárik, Andrej Kováč, Marián Mitaš Artistic collaboration: P.B. Czerghow
Music: Alexander Maďar Translation and editing text: Vilo Santanelli Designer: Von Dubravay
Dramaturgy: Ida Hledíková Media and PR: Ján Laš Production: Viera Sandtnerová Directed by: Gejza Dezorz
Producent: Dezorzovo lútkové divadlo